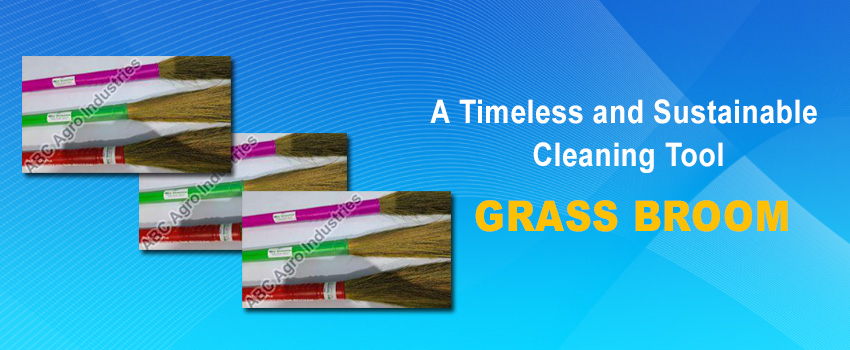 A grass broom is a simple yet effective cleaning tool that has been a staple in households and industries for many generations. Due to its efficiency in sweeping and cleaning various surfaces, it has gained popularity. This article explores the enduring utility of the grass room and the rule of grass broom exporters in making this sustainable cleaning tool accessible to the global market.
Understanding the Grass Broom
As the name suggests, a grass broom is made typically from natural plant materials. It comprises a few key ingredients.

Bristles: The most crucial part of a grass broom is the bristles. They are usually made from dried and processed grass, straw or plant fibers. They are tied together tightly at one end leaving the other end open forming the sweeping surface.

Handle: The handle gives a proper and comfortable grip to the broom which helps the user to swing the broom conveniently.

Binding Material: Usually natural material such as twine is used to bind the bristles. Some also use wire to securely tie the bristles together.

Sweeping Surface: The open surface or the bristles help in sweeping by pushing and collecting dirt and debris.


What are the Advantages of a Grass Broom?
Grass brooms have several advantages to offer contributing to their increasing popularity.

Effective Cleaning
The natural bristles of a grass broom sweep the dust, dirt and debris from various surfaces, leaving a clean and tidy place.

Environmentally Friendly
Grass brooms are made of natural biodegradable plant material which makes them an eco-friendly cleaning tool.

Durable
Grass rooms can have a longer lifespan if taken care of properly. They can withstand regular use because of their sturdy construction.

Lightweight
They are easy to handle and lightweight, which makes them suitable to be used by people of all ages.

Versatile
Grass brooms can be used on various surfaces starting from floors to outdoor spaces and are equally used in household and industrial settings.

Cost-effective
These rooms are comparatively cost-effective and budget-friendly as compared to some modern cleaning tools, which makes them accessible to a wide range of users.


What is the Role of Grass Broom Exporters?
Grass broom exporters play a significant role in making this simple, effective and sustainable cleaning tool available to users across the globe. Their role is important as they make this eco-friendly and natural cleaning tool available to users all over the world. They source the material needed to make the broom and then take over the complete manufacturing process.

Grass broom exporters then follow strict quality control measures to meet international quality requirements. In the next step, they prepare the brooms for export to different locations across the globe.
They have a strong market reach that connects them to international buyers and distributors. This helps them reach more audiences and meet the demands of more retail buyers.

Overall, grass brooms are completely natural and eco-friendly and are an efficient cleaning tool. It carries the tradition along with the modern appeal that makes cleaning simple. With the help of grass broom exporters, this simple cleaning tool has reached the international market and has gained popularity.